My name is Dr. Greg Gemoules, and my profession is optometry. I received my O.D. degree from the Illinois College of Optometry and have a B.A. degree in chemistry from Millikin University.  I am also a member of the Texas Optometric and the American Optometric Associations.  I frequently go by the nickname of Dr. G.®. For well over a decade, I have been researching various contact lenses and their effects on post-surgical eyes. The ability to have such a positive impact on peoples lives by restoring quality vision is both a unique opportunity and a great privilege.
In addition to being a Therapeutic Optometrist/Optometric Glaucoma Specialist, my main passion is in designing one-of-a-kind contact lenses for restoring and enhancing vision, using any and every means at my disposal. I am proud to have helped many people with various complex corneal issues restore their eyesight over the years. All of these efforts have resulted in several novel ideas on the therapeutic application of contact lenses on post-surgical eyes, peer-reviewed journal articles, patents on fitting scleral lenses using high resolution biometry and scleral lens manufacturing using wavefront-guided optics. I often write optometry-related articles in our Laserfit® blog, otherwise known as Dr. G.'s® journal.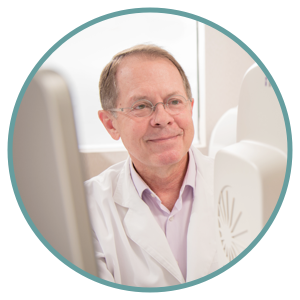 My Interests and Hobbies
I am a former avid runner. I now like to go for long rides on my bicycle, a classic Italian steel alloy Quattro Assi racing frame. I still look forward to spring skiing in Utah, where we have vacationed as a family for more than 15 years with rare exception.
Music is a big part of our lives. I still keep a few guitars to remind me of my blazingly brief career as a musician. The talented fingers of my wife and son have produced countless hours of much more refined music from the baby grand. Our kitchen is the center of our home. The hanging pots and pans denote an era when copper was both affordable and available, and also serve notice of our serious foodie aspirations.