px:
712 S. Denton Tap Road Coppell, TX 75019 | 972-462-7311 | info@laserfitlens.com
UNIQUE AND PROVEN TECHNOLOGY FOR SCLERAL LENSES
Dr. Greg Gemoules developed the Laserfit® vision system for scleral lenses and is the first to pioneer the use of Optical Coherence Tomography to precisely laser map the anterior eye surface. He is also the first to incorporate wavefront-guided optics into a contact design for scleral lenses for patients with complex optical issues that cause higher order aberrations. The patented Laserfit® system does not require the use of trial lenses. Over the last decade, the Laserfit® system has been constantly refined and improved, resulting in the most powerful and sophisticated design and fitting technology for scleral lenses available today. We often achieve 20/15 vision or better for many of our patients.
WAVEFRONT TECHNOLOGY: BETTER VISION, FEWER DISTORTIONS
The presence of higher order aberrations in patients with diseases such as keratoconus can only be addressed by our unique wavefront technology. Wavefront-guided optics act to cancel out higher order aberrations such as ghosting, smearing, halos and glares when ground into a scleral lens surface, resulting in better vision in most cases.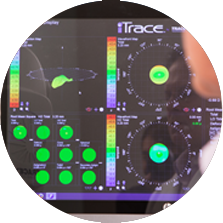 100% DIGITAL
No Trial Lens
Fitting Needed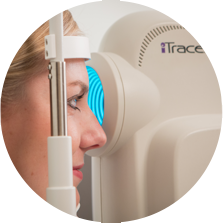 Non-Invasive
No Messy
Molding Needed
Cost Effective
Competitive Pricing
PROVEN TECHNOLOGY
A Patented System
Advantages of Laserfit® Scleral Lenses
Custom-made to match your unique eye
Proprietary lens design and optics
Best comfort with less focal eye compression
Easy fitting process for patient
LASERFIT® SCLERAL LENSES ARE BENEFICIAL FOR PEOPLE WITH THE FOLLOWING COMPLEX VISION ISSUES
Keratoconous  •  Pelucid Marginal Degeneration
•  PRK, RK and LASIK Complications
Severe Dry Eye Disorder  •  Corneal Ectasia
•  Stevens-Johnson Syndrome
Higher Order Aberrations  •  Irregular Astigmatism
… Dr. Gemoules is your best shot at diagnosing and designing a contact lens remedy for you. He is just simply at the forefront of investigating and treating these issues we face, and I hope he continues to forge forward in this area…
– Brian Oregon, USA
Without a doubt these are the best lenses I have ever had. The other evening I had to drive in dark and wet conditions it's not something that I previously would have been able to do…
– Keratoconus patient New Zealand
Dr. Gemoules is your best shot at diagnosing and designing a contact lens remedy for you. He is just simply at the forefront of investigating and treating these issues we face, and I hope he continues to forge forward in this area…
– Raphael Paris, France
Dr. Gemoules has succeeded in providing me an excellent vision, night and day, with very good contrast. I'm very happy…
– Raphael Paris, France
prev
next