LASERFIT
®

SCLERAL SYSTEM

Dr. Greg Gemoules or Dr. G., a leader in the field of scleral lens technology, is known worldwide as the leading innovator behind the life-changing LaserFit® SCLERAL lens vision system. LaserFit® is dedicated to improving quality of life for patients and their families through the treatment, design, and fabrication of next generation ocular surfaces.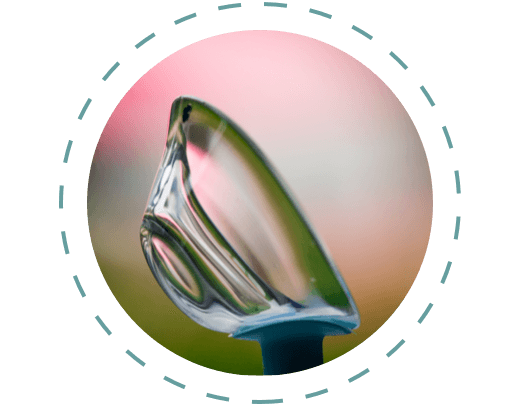 LaserFit® SCLERAL is the first scleral lens fitting system based on Optical Coherence Tomography, driven by laser-mapped surface data, and the first to use non intrusive options to precisely map the ocular surface of each eye.
LaserFit® lenses are the first to incorporate custom wavefront guided optics into the lens design. All these innovations combine to achieve unprecedented vision and comfort that patients from all over the globe have come to expect. Our system has been constantly refined and improved over the past decade, resulting in the most precise and sophisticated design and fitting technology for scleral lenses available today.
WAVEFRONT LENS OPTICS
The presence of higher order aberrations in patients with diseases such as keratoconus is much more effectively addressed by our unique wavefront technology. Wavefront-guided optics are ground into a scleral lens surface and act to cancel out higher order aberrations such as ghosting, smearing, halos and glares, resulting in even better vision.  We have years of clinical experience with this technology.
The LaserFit® Vision System is specifically designed for patients with complex optical issues that cause higher order aberrations. The fitting process does not require the use of trial lenses and our custom lenses are manufactured daily and fitted during your stay with us. We regularly achieve 20/15 or better vision outcomes for many of our patients.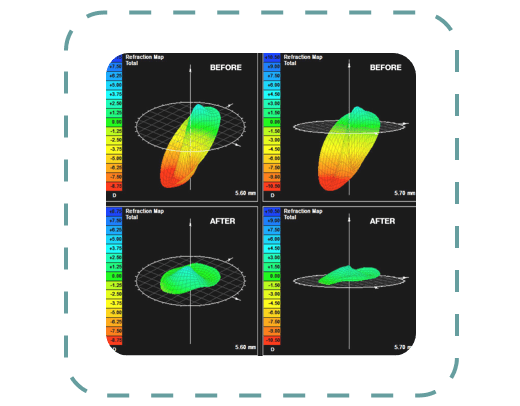 DAILY LENS FABRICATION
Dedicated 1-on-1 sessions underpin the LaserFit® Scleral system. Our process is both custom and iterative. Each day, if required, new custom lenses are manufactured for each patient. During daily visits (typically 5 days), patients test fit newly fabricated lenses incorporating enhancements from the previous day's data. The fit, comfort and quality of vision are re-evaluated and the process is repeated until the best quality custom lenses have been produced.
Limited Patient Intake ensures that adequate time is available each and every day to evaluate, refine and adapt each individuals computer CAD model for next day manufacture. Scleral patient's daily visits only require a small portion of each day. Patients are then free to go about their day while we do the heavy lifting behind the scenes.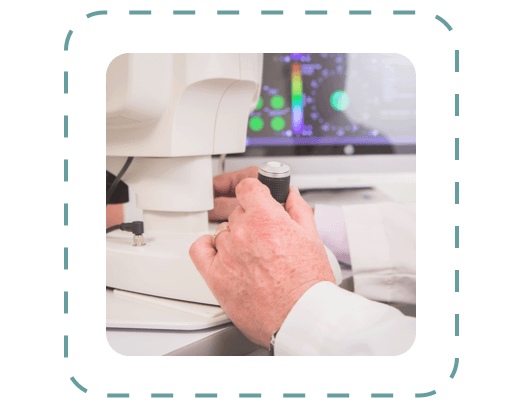 100% DIGITAL & NON-INVASIVE
Our digital fitting process creates a non-invasive three-dimensional digital "mold" of the surface of the eye. Using this model, a custom lens is designed to perfectly match the shape of the eye. This stable platform, designed for comfort and fit is then used as a foundation for the lens optics to counter aberrations and restore quality of vision.
Decades of Experience fitting complex lenses, combined with our unique patented technology is what separates us from the competition. Dr Gemoules, the pioneer behind the design, performance, and manufacture of the LaserFit® Scleral System has spent many years helping patients from all over the world resolve complex vision issues.