Dr. G's odyssey to aid compromised eyes has led to the creation of super-vision in a number of patients. What does this mean, and how is it done? Vision scientists have concluded that the human eye is actually capable of seeing 20/10 or better, and that the imperfect optics of the eye prevent this from happening on a regular basis.
It is now possible to measure the optics of the eye in greater detail using an instrument called an aberrometer, of which there are several basic types. In one type, hundreds of tiny lenslets are used to measure the light reflected back out of the eye. In another version, hundreds of individual laser beams are projected into the eye.
Wavefront optics – can improve even perfect vision
The result is something called a wavefront, which depicts how a perfect beam of light is altered as it passes through the optics of the eye. In the perfect eye, all rays of light projected through the pupil would wind up in the same location at the same time, and form a perfect image. In this condition, the eye would probably be capable of 20/10 or better vision.
We also know that a "normal" eye that does not need vision correction will not typically exhibit perfect optics. The wavefront of the eye will still not be perfectly flat and smooth, but will probably resemble a potato chip. This is because of minute imperfections in the optics. The image on the left side below shows how much power range is present in an eye with advanced keratoconus. The eye on the right hand side is a normal eye.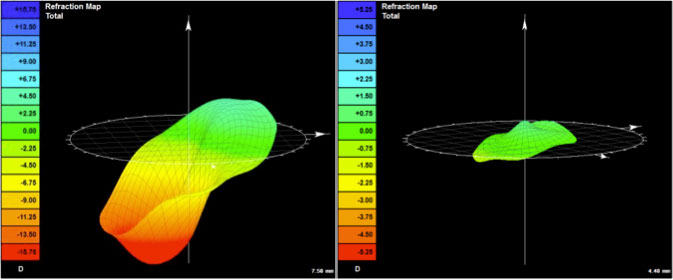 Traditionally, eyes are classified as having nearsightedness, farsightedness, and/or astigmatism. Those conditions are corrected using ordinary convex, concave, or cylindrical lenses. In optical parlance, those conditions fall under the heading of lower order aberrations, and can be corrected with ordinary spectacles. However, other aberrations will be present.
Higher order aberrations typically account for about 25% or less of the total blur of the average eye, but patients normally don't realize they are present. In some conditions such as keratoconus, or following some surgical procedures, the higher order aberrations can be 50% or more of the total blur. These patients will still experience visual symptoms such as glare, halos, ghost images, etc. even when corrected with spectacles or ordinary contact lenses.