WHAT IS KERATOCONUS?
Keratoconus is a progressive eye disease that occurs when the normally round cornea becomes thin and bulges into a cone-like shape. The irregular shape deflects light as it enters the eye, preventing the light from being able to focus correctly on the retina, ultimately causing distorted vision. Depending on the severity, keratoconus treatment can vary.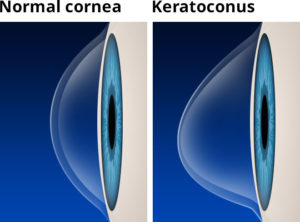 WHAT ARE THE SYMPTOMS OF KERATOCONUS?
The earliest signs of keratoconus are often frequent changes in eyeglass prescription and blurred vision. Progressive nearsightedness and irregular astigmatism can also develop as the cornea becomes more irregular in shape. Symptoms can begin at any time, but generally begin in early twenties or late teenage years. Other common symptoms are:
Difficulty driving at night
Headaches and general eye pain
Eyestrain
A halo around lights and ghosting
Increased light sensitivity
WHAT ARE THE CAUSES OF KERATOCONUS?
The specific cause of keratoconus is unknown. Keratoconus can be associated with a history of poorly fitted contact lenses, overexpose to ultraviolet rays, and chronic eye irritation. New research suggests that an imbalance of enzymes within the cornea may be what is causing the weakening of the corneal tissue, which leads to keratoconus.
HOW IS KERATOCONUS TREATED?
Keratoconus treatment often depends on the degree of severity of the keratoconus. Soft contact lenses or eyeglasses are commonly used to correct mild nearsightedness and astigmatism symptoms. As the disease progresses, these treatments no longer provide adequate vision correction. For advanced keratoconus, treatments include:
Corneal crosslinking
Hybrid contact lenses
Scleral and semi-scleral lenses
Corneal transplant
Topography-guided conductive keratoplasty
Custom soft contact lenses
Intacs
Gas permeable contact lenses
Laserfit scleral lenses have been proven to successfully treat keratoconus symptoms. For many of our patients with advanced keratoconus, Laserfit greatly reduced or eliminated the glare and ghosting they had struggled with from traditional lenses. To find out more, view our patient stories, FAQs, or contact us and learn how Laserfit can help.