Dry eye and recurrent corneal erosions. patient, Andre's scleral lens success story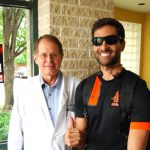 Patient: Andre
Diagnosis: Dry eye and recurrent corneal erosions.
Vision Restored: 2015
Country: Sao Paulo, Brazil
Andre had LASIK in 2008. He developed dry eye and painful recurrent corneal erosions. He had to use special eye drops, wear protective eye wear, and his lifestyle was compromised. Laserfit not only relieved his dryness, but it also improved his vision to better than 20/20 - an unexpected bonus! Andre also received ProKera human amniotic tissue treatment while he was here to improve the health of his corneas. He was doing so well that he purchased a bicycle and rode it to the clinic every day without experiencing any dry eye symptoms.